Dave Solursh is the owner of Art For The Ears Ltd. He is a passionate music lover and holds a Bachelor of Fine Art in Electro-Acoustic Music from Concordia University.
Dave got interested in the hobby of synth building about 6 years ago and has become an active member of many online synth communities & forums. The idea to build custom handcrafted skiffs & amp cases was born out of necessity as he was slowly amassing a huge collection of modules and had no cases to store them in.
Dave has worked the last 15 years in the chalet/cottage building industry with a focus on fabricating hand crafted precast architectural concrete. During many of his concrete installations he would often incorporate reclaimed wood as an element in the overall working design of the build.  Although concrete was the original idea for a business, working with wood ultimately became the passion.
Do not hesitate to contact Dave if what you are looking for is not on the website. Dave has created many custom skiffs and obviously all guitar amp cases are one of a kind creations.
Dave lives with his wife and two sons in Meaford, Ontario. When not working, he can be found snowboarding at Blue Mountain, boating in Muskoka or building custom synths at his in-house music studio.
You may use our 'contact us' page on the site, or alternatively email Dave sales@artfortheears.com or cell 705.443.2003
Art For The Ears Ltd is located in Ontario, Canada.
347-115 First Street
Collingwood, Ontario
L9Y 4W3
Dave Solursh
705.443.2003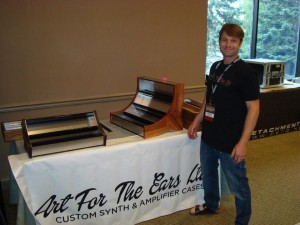 DOWNLOAD OUR INSTRUCTION MANUAL BY CLICKING THE LINK BELOW: